Body
Image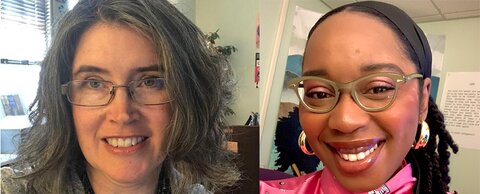 Greetings, and welcome to new students! Academic advisors Keshia Atkins (right) and Anna Ivy (left) provide advising services for undergraduates majoring or minoring in English and/or creative writing; we're also happy to meet with prospective students who want to learn more about these programs. With the help of office administrator Nancy Rahn, we'll do our best to support you in whatever ways we can.   
Office Hours:
Mon-Fri, 8:30am-noon and 1:00pm-4:30pm
You can connect with us in a number of ways: 
You can email your questions and concerns. If you have an established relationship with a particular advisor and would like to email her directly you may, or you can email englishadvising@illinois.edu in which case Anna, Keshia, and Nancy will all see your message and the first person able to reply will do so.
If you want to communicate with an advisor in real time, please schedule an appointment by calling the office at 217-333-4346 (note that we do not schedule appointments via email). If you have to leave a message, please include your name, UIN, the reason for the appointment, and your preferred advisor (if any). Someone will get back to you as soon as possible (we do not return calls over the weekend so if you leave a message on Friday evening please expect to hear back no earlier than Monday). Depending on your situation and how urgently you want to meet, you may need to schedule a virtual appointment, but if you prefer an in-person appointment please specify that and we will do our best to accommodate you.