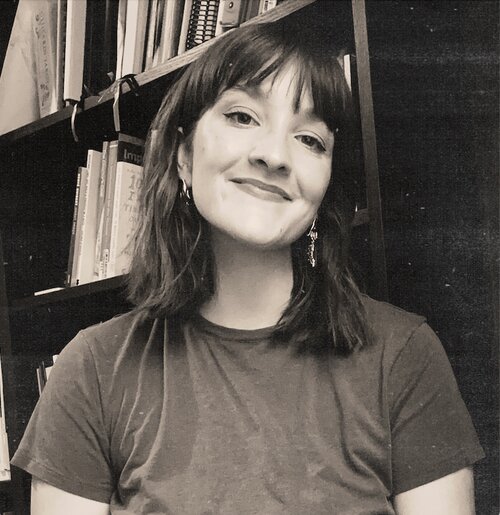 Biography
Laura M. Coby is PhD candidate in Literary Studies with a minor in Queer Studies. Her research focuses on modern to contemporary performance with a concentration in performance studies and queer theory. Her dissertation, "Spectral Futurity: The Performative Afterlives of Mourning," explores how aesthetic mourning practices pave avenues for the dead to inhabit the present, refusing death's finitude through aesthetic relational exchange. 
In Spring 2023, Laura was the Sue Divan Graduate Student Fellow in Performance Studies and directed a staged reading of Fefu & Her Friends by playwright María Irene Fornés, produced by Dr. Sandra Ruiz through La Estación Gallery and Minor Aesthetics Lab. During her time at UIUC, Laura has worked with La Estación Gallery to perform as a contributing poet, collaborative curator, multi-sensorial installation artist, workshop leader, intern, virtual stage manager, and social media designer. She also did dramaturgy for María Irene Fornés's The Successful Life of 3. Additionally, Laura has served as an Assistant Director of Rhetoric in the Department of English, the Round-the-Press Intern at the University of Illinois Press, and as a research assistant for Prof. Sandra Ruiz and Prof. Andy Gaedtke.
Research Interests
Performance Studies

Queer of Color Critique

Feminist Theory

Minoritarian Aesthetics

Theatre Studies

Theories of Mourning and Melancholia

Film Studies

Modern to Contemporary Experimental Literature
Education
MA in English Literature, University of Illinois at Urbana-Champaign, 2018
BA in English, University of Alabama, 2015
Courses Taught
RHET 105: Research and Writing
ENGL 104: Intro to Film
ENGL: 109: Intro to Fiction
Additional Campus Affiliations
La Estación Gallery
Minor Aesthetics Lab
Brown Theatre Collective
Graduate Employees' Organization
EGSA
Recent Publications
"Reorienting Intimacies: Felix Gonzalez-Torres's First Canadian Solo Exhibition: An Interview with Rui Mateus Amaral," Performance Matters, 9.1–2 (2023): 385–405. 
"Muppets Take Windows 95: The Queer Failure of Muppets Inside: CD-Rom," The Journal of American Culture, 46.3 (2023): 224-231.