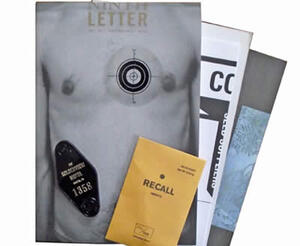 Ninth Letter is a semi-annual literary arts journal published at UIUC by the Master of Fine Arts (MFA) in Creative Writing Program in collaboration with the School of Art & Design. Since its premiere in the spring of 2004, Ninth Letter has received numerous accolades and national attention, garnering several awards for design and content, including the "Best New Literary Journal" award from the Council of Editors of Learned Journals in 2005. Stories, poems, and essays from Ninth Letter have been selected for such prominent awards anthologies as The Pushcart Prize, Best American Stories, Best Creative Nonfiction, Best New Poets, Year's Best Fantasy and Horror, and Best American Fantasy.
Ninth Letter has come to play an integral role in the MFA in Creative Writing Program. Under the oversight of a full-time editor, faculty members serve as fiction, poetry, and creative nonfiction editors, selecting content that represents a wide range of aesthetics and subject matter.
Graduate students play a large role in the daily life of the journal; they have the opportunity to work for Ninth Letter in a variety of ways, an experience that can enhance both their own writing and their understanding of the literary-publishing industry on a larger scale. A hands-on practicum course, "Literary Publishing and Promotion," is open to graduate students after they complete their first semester; the course counts toward the MFA elective requirements. During the practicum, students work under the supervision of the editor and a staff of faculty editors to read submissions, attend editorial meetings, and assist with the selection of content for the journal. Students also learn about the business aspects of literary publishing and assist with marketing, promotion, and subscription fulfillment. Students who complete the publishing course are eligible to apply for assistantship positions with Ninth Letter, allowing them to take on more responsibilities and gain a greater understanding of the literary-publishing process.
Visit the main Ninth Letter site