Ninth Letter is the University of Illinois' award winning literary arts journal, edited by faculty and students in the Creative Writing Program. Published in print twice a year since its premiere in the spring of 2004, Ninth Letter also began publishing two additional online-exclusive issues in 2013. Stories, poems, and essays from Ninth Letter in print and online have been selected for such prominent awards anthologies as The Pushcart Prize, Best American Stories, Best American Poetry, Best American Experimental Writing, Best of the Net, Best Creative Nonfiction, Best New Poets, Year's Best Fantasy and Horror, and Best American Fantasy.
Image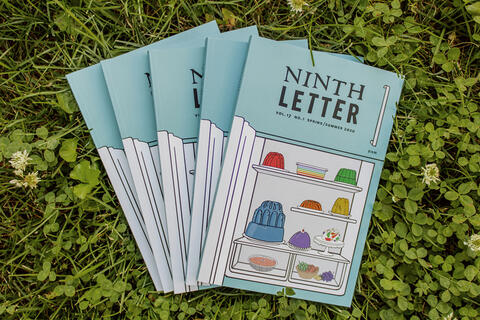 Ninth Letter plays an integral role in the MFA in Creative Writing Program. Faculty members serve as fiction, poetry, and creative nonfiction editors for the print edition, selecting content that represents a wide range of aesthetics and subject matter. Graduate students have the opportunity to work on the Ninth Letter editorial staff, an experience that can enhance both their own writing and their understanding of the literary publishing industry on a larger scale. A hands-on practicum course, "Literary Publishing and Promotion," (CW560) is open to graduate students after they complete their first semester; the course counts toward the MFA elective requirements. During the practicum, students work under the supervision of the editor and a staff of faculty editors to read submissions, attend editorial meetings, and assist with the selection of content for the journal. Students also have the opportunity to learn about the business aspects of literary publishing and assist with marketing, promotion, and subscription fulfillment.
Image
Undergraduate English and Creative Writing majors can join the Ninth Letter team by enrolling in CW460, "Introduction to Literary Editing." In this course, students work with a faculty instructor to edit a specially-themed issue of Ninth Letter's online edition. As in the graduate-level course, students in CW460 gain hands-on experience in literary editing while learning about the larger field of contemporary literary publishing.
Visit the Ninth Letter website, or follow us on social media:
More About Creative Writing at Illinois: