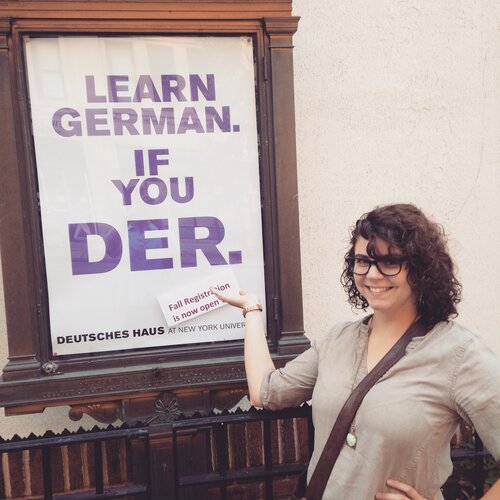 Contact Information
332 English Building
608 S Wright St.
Urbana, IL 61801
PhD Candidate, Literary Studies
Biography
Leah Marie Becker is a PhD Candidate in the Department of English at the University of Illinois at Urbana-Champaign. She is currently finishing her dissertation—"Living Clean and Shopping Green"—which uses what she calls "environmental domesticity" to trace a prehistory of current eco-conscious consumer behaviors to nineteenth-century domestic ideology, white femininity, and American literature. Her scholarship has appeared in Studies in American Fiction, Edge Effects, and Render: Food and Feminist Quarterly. Her non-scholarly interests include drawing, baking, gardening, and snuggling with her Scottie dog, MacDougal. 
Research Interests
C19 American Literature
Ecoconsumption
Ecocriticism
Environmental Humanities
C19 American Domesticity
Women's Literature
Economics
Research Description
My dissertation, "Living Clean and Shopping Green: Environmental Domesticity and the Nineteenth-Century Roots of Ecoconsumption," traces current ideas of green capitalism and ecoconsumption back to nineteenth-century domestic ideology. I structure this prehistory around a concept I call "environmental domesticity"—a collection of ideologies and practices that treat domestic space as an environment in and of itself that can stand apart from, blend with, or absorb natural, outdoor space. Using "environmental domesticity" as an analytical lens, I examine an archive of texts that defined the model American woman as a white, middle-class domestic sentry, responsible for controlling the purity of the American domicile in its many forms, from the southern plantation to the urban metropolis. Using excerpts from domestic manuals, memoirs, fiction, and ad campaigns, my project elucidates how classist and racist theories of purity merged with consumer practices over the course of the nineteenth century to form a new kind of home economics based on purchasing, rather than production. This fusion, I argue, helped establish the myth that white femininity and the environmental control it promised could be achieved by purchasing specific, "ethical" products (such as "free produce") or by shopping at union-friendly, "white label" stores. Building on critiques of white femininity from Harriet Jacobs, Frances Harper, Ida B. Wells, and other women who publicly recognized that such power was ultimately—and, indeed, purposefully—unattainable for the average American woman, my project illuminates how the impossible standards laid out in white women's directives ultimately trapped the female shopper in a perpetual cycle of consumption and shame that is mirrored in modern ecoconsumption. By establishing this prehistory of ecoconsumption, my dissertation ultimately explodes the scholarly binary between environmental studies and domesticity studies, illustrating how domestic literature can help inform and disrupt extractive capitalism's seemingly endless loop or production and consumption.
Education
MA English Literature, New York University, 2017
BA English Literature, University of Portland, 2014
Grants
Internal Graduate Fellowships:
Dr. Nina Baym Dissertation Completion Fellowship, 2023-2024
Decyk Fellowship, Summer 2023
UIUC English Department Fellowship, 2022-2023
President's Diversity in Research Travel Award, 2022
Illinois Distinguished Fellowship, 2017-2022
External Research Fellowships:
Clements Library, University of Michigan: Jacob M. Price Short-Term Fellowship, 2022-2023
Schlesinger Library, Radcliffe Institute at Harvard University: Dissertation Grant, 2022-2023
Awards and Honors
English Department Undergraduate Teaching Award, 2020
LAS Award for Excellence in Undergraduate Teaching by a Graduate Student, 2021
UIUC Excellence in Undergraduate Teaching Award, 2021
Courses Taught
ENGL 116: Introduction to American Literature (Instructor of Record)
ENGL 250: Nineteenth Century American Fiction (Instructor of Record)
RHET 105: Writing and Research (Instructor of Record)
ENGL 255: Early American Literature and Culture (Teaching Assistant)
Additional Campus Affiliations
UIUC Students Advising Graduate Education: Board Member, 2021-2023
UIUC CAS Academic Standards Committee: Graduate Representative, 2020-2022