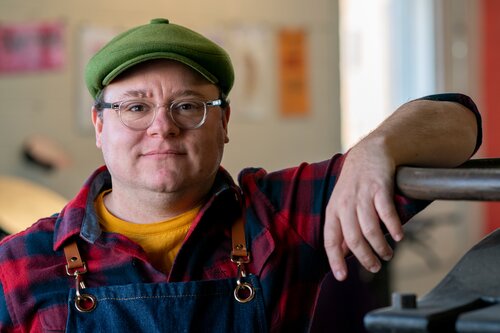 Contact Information
220 English Building
608 S Wright St.
MC 204
Urbana, IL 61801
Office Hours
FA 2021: Wednesdays 230-430 via Zoom
Research Areas
PhD Student, Literary Studies;
Graduate Teaching Assistant
Research Interests
Nineteenth Century American Literature, Book History, and Print Culture
Transgender and Queer Studies
Education
MA English Literature, University of Illinois at Urbana-Champaign, 2018
MA Gender & Women's Studies, University of Wisconsin-Madison, 2016
BFA School of the Art Institute of Chicago, 2001
Awards and Honors
2020 College of Liberal Arts & Sciences Award for Excellence in Teaching
2020 Tulane University Purchase Price, College Book Arts Association Members' Juried Exhibition
2020 College Book Arts Association Student Member Prize, CBAA Members' Juried Exhibition
2019 English Department Undergraduate Teaching Award
Courses Taught
As Instructor of Record: 
ENG 121: Introduction to Comics [in Theory and Practice]
ENG 250: Nineteenth Century American Fiction [Bodies, Books, Genders, and Genres] 
ENG 325: Topics in LGBT Literature and Film [Transgender Literature and Cultural Production]
RHET 105: Research and Writing
As Teaching Assistant: 
ENG 255: Early American Literature and Culture 
GWS 202: Sexualities 
Additional Campus Affiliations
Gender & Women's Studies (Queer Studies Minor)
Unit for Criticism & Interpretive Theory
Highlighted Publications
BOOK CONTRIBUTIONS
"Transgender and Trans Health 101." Women's Health: Readings on Social, Economic, and Political Issues. Ed. Cabell H. Gathman. Dubuque, IA: Kendall-Hunt Publishing, 2016. 81-87.
JOURNAL ARTICLES
ENCYCLOPEDIA ENTRIES
"Cis, or Cisgender." Global Encyclopedia of Lesbian, Gay, Bisexual, Transgender, and Queer (LGBTQ) History. Farmington Hills, MI: Charles Scribner's Sons, 2019.