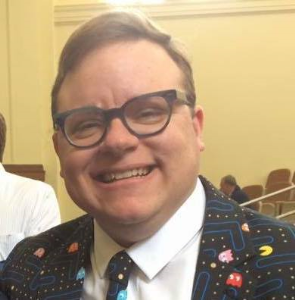 Contact Information
220 English Building
608 S Wright St.
MC 204
Urbana, IL 61801
Research Interests
Nineteenth Century American Literature, Book History, and Print Culture
Transgender and Queer Studies
Comics Studies
Education
MA English Literature, University of Illinois at Urbana-Champaign, 2018
MA Gender & Women's Studies, University of Wisconsin-Madison, 2016
BFA School of the Art Institute of Chicago, 2001
Courses Taught
RHET 105: Research and Writing (Instructor)
ENG 121: Introduction to Comics: in Theory and Practice (Instructor)
ENG 250: Nineteenth Century American Fiction (Instructor) [Bodies, Books, Genders, and Genres]
ENG 255: Early American Literature and Culture (Teaching Assistant)
GWS 202: Sexualities (Teaching Assistant)
Highlighted Publications
BOOK CONTRIBUTIONS
"Transgender and Trans Health 101." Women's Health: Readings on Social, Economic, and Political Issues. Ed. Cabell H. Gathman. Dubuque, IA: Kendall-Hunt Publishing, 2016. 81-87.
JOURNAL ARTICLES
"Calling [herself] Eleanor: Gender Labor and Becoming a Woman in the Rykener Case." Medieval Feminist Forum: A Journal of Gender and Sexuality (Forthcoming) 
"'You deciphered me and now I am hard to read': How the Body is a Book." Library Trends 64.4 (2016): 741-755.
ENCYCLOPEDIA ENTRIES
"Cis, or Cisgender." Global Encyclopedia of Lesbian, Gay, Bisexual, Transgender, and Queer (LGBTQ) History. Farmington Hills, MI: Charles Scribner's Sons, 2019.