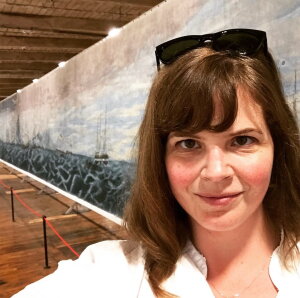 Biography
Jamie L. Jones is an Assistant Professor in the Department of English at the University of Illinois at Urbana-Champaign. She earned her Ph.D. in American Studies at Harvard University.  Her research explores the historic pivot in energy use in the nineteenth century, when whale oil and other organic energy sources gave way to fossil fuels.  Jones considers the way that U.S. literature, art, and popular culture represented that energy transition, and her research finds that those cultural representations in turn have shaped our perception of environmental change, our practices of energy extraction and consumption, and our imagination of the world's oceans. Her current book project, Rendered Obsolete:  The Afterlife of U.S. Whaling in the Petroleum Age, chronicles the culture of the U.S. whaling industry from its peak production through its obsolescence in order to addresses the question:  "Where do industries go when they die?"
Jones's work has been published in American Art, Configurations, and Common-place. Her research has been supported by the National Endowment for the Humanities, the Smithsonian American Art Museum, the Whiting Foundation, the John Carter Brown Library, and others. Jones has won several awards for her teaching at Harvard University, the University of Michigan, and the University of Illinois. 
Jones has also written for the Los Angeles Review of Books and The New York Times, and has been interviewed about her research on the BBC World News Service, and on the podcasts BackStory and Cellar Door.
Research Interests
Environmental Humanities; American Literature; American Art; Visual Culture; Material Culture; Public Humanities
Education
Ph.D., American Studies, Harvard University
A.B., English & American Literature, Harvard College
Awards and Honors
Fellow, Center for Advanced Studies, 2018-19
IPRH Prize for Research in the Humanities, 2018
Illinois Student Government Teaching Excellence Award, 2017
Courses Taught
English 250: American Novel to 1914
English 476: Literature and the Sea (Topics in Environment and Literature)
English 128/GCL 128: Fictions of Sustainability: Food, Water, Energy
English 274: Energy Literature
English 450: American Literature from 1865-1914
English 200: Introduction to the Study of Literature
Additional Campus Affiliations
Assistant Professor, English
Assistant Professor, Institute for Sustainability, Energy, and Environment
Assistant Professor, Unit for Criticism and Interpretive Theory
Recent Publications
Jones, J. L. (2023). Rendered Obsolete: Energy Culture and the Afterlife of US Whaling. University of North Carolina Press. https://www.jstor.org/stable/10.5149/9781469674841_jones
Jones, J. L. (2019). Beyond Oil: The Emergence of the Energy Humanities. Resilience: A Journal of the Environmental Humanities, 6(2-3), 155-163. https://muse.jhu.edu/article/728724
Jones, J. L. (2018). Time Machines: Moving Panoramas in Nineteenth-Century U. S. Literature. In A Spectacle in Motion: The Grand Panorama of a Whaling Voyage 'Round the World New Bedford Whaling Museum.
Jones, J. L. (2017). Fish out of Water: The "Prince of Whales" Sideshow and the Environmental Humanities. Configurations, 25(2), 189-214. https://doi.org/10.1353/con.2017.0012
Jones, J. L. (2017). Print nostalgia: Skeuomorphism and Rockwell Kent's woodblock style. American Art, 31(3), 2-25. https://doi.org/10.1086/696113