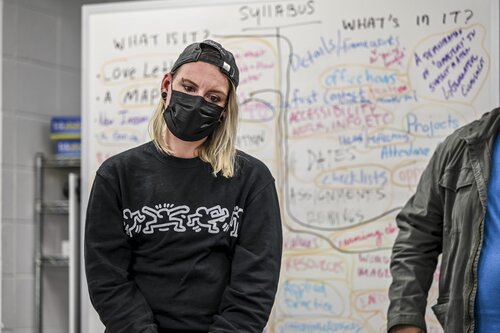 Contact Information
248 English Building
608 S Wright St.
Urbana, IL 61801
Office Hours
AY 22-23: E-mail to schedule an appointment.
PhD Student, Literary Studies; Humanities Research Institute Interseminars Graduate Fellow (2022-2023)
Biography
Emerson Parker Pehl (Cherokee Nation of Oklahoma) is a PhD student in literary studies through the department of English at the University of Illinois at Urbana-Champaign. Their current literary scholarship primarily focuses on Indigenous and Indigiqueer critiques of U.S. settler coloniality/colonialism and its logics. 
Emerson is also a clinical sexologist and is a licensed social worker (LSW) in the state of Illinois.
Research Interests
(queer) Indigenous theory & studies, settler colonialism studies, anticoloniality, gender and queer theory, transgender studies, human sexuality studies, (historical) trauma studies
Education
M.S.W. with Trauma Specialization, Widener University, 2021
M.Ed. in Human Sexuality Studies with Clinical Sex Therapy Specialization, Widener University, 2021
M.A. in Gender/Cultural Studies, Simmons College, 2018
B.A. in Gender Studies and Psychology, Mount Holyoke College, 2014
Awards and Honors
2022-2023 HRI Interseminars Graduate Fellowship
Courses Taught
RHET 105: Writing and Research (FA21, SP22)
Additional Campus Affiliations
American Indian Studies Department
Gender and Women's Studies Department
Unit for Criticism and Interpretive Theory