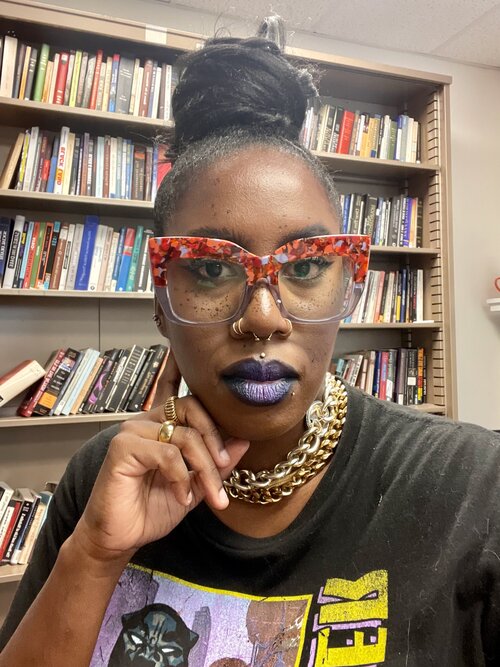 Contact Information
English Building
608 S Wright St.
Urbana, IL 61801
Graduate Teaching Assistant; PhD Student; Literary Studies
Biography
My scholarship has been influenced by the work of Black Radicals, thinkers, activists, and Postcolonial theorists such as Newton, Seale, Baraka, Baldwin, Malcolm X, Fanon, Spivak, Said, and others. I am always thinking about power: how it functions, how it perpetuates violence against Black bodies, how it Others, whom it Others, and who maintains it.
Research Interests
African American Literature & Culture
Collective/ Inherited (Cultural) Trauma
Grief/ Mourning
African Diasporic Funerary Rituals
Personhood (Ontology)/ Citizenship/ Nationhood
Black Religions
Black theology
Research Description
My work focuses on grief, death, trauma, and mourning. I am fascinated by depictions of grief and bereavement in African American Literature. Integrating postcolonial theory and psychoanalysis into my work, I study interrupted or prohibited grief. Specifically, I am interested in how Black people mourn 400 years of trauma individually, collectively, and nationally through our literature. I also research the ways the acknowledgement of grief/mourning are linked to personhood, citizenship, and a recognition of our collective humanity. 
Although my passion is Black Literature and Culture, my interests include 20th and 21st Century American Literature, American Studies, Psychoanalysis, and Literary Theory, especially Deconstruction and Critical Race Theory.
Education
M.A. English, San Francisco State University, 2020
B.A. English, University of California, Berkeley, 2007
Awards and Honors
LAS Undergraduate Teaching Award, 2023
Graduate College Fellowship, UIUC, 2021
Debra Plousha Moore Scholarship, San Francisco State University, 2015
Courses Taught
REL 134–TA (Fall 2023)
Rhet. 105 (Fall 2022; Spring 2023)