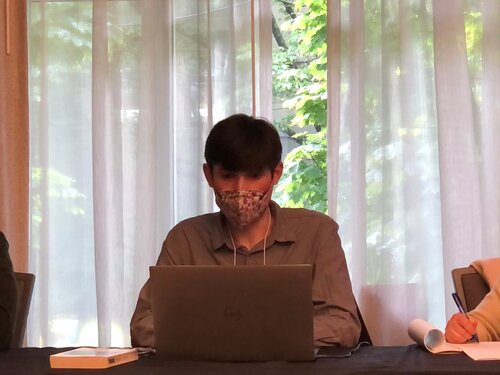 Graduate Student, Literary Studies; Assistant Editor, American Literary History
Research Interests
transnational modernisms | theory of the novel | critical theory | politics & history of form | temporality
Research Description
My dissertation project revises diagnostic accounts of an elitist high modernism through attention to the popularity of the single-day novel form as it circulated in England and the United States in the early twentieth century. Following the restructuring and economization of daily life in the late nineteenth century, I track a newly contingent understanding of time as a form to be shaped through human agency within the English cultural imaginary. By theorizing the everyday as an aesthetic form through which historical tensions about time and value were negotiated, I read a constellation of canonical and lesser-known modern novels as moments in the "unbecoming" of social time. I argue that the interwar diurnal novel animates enduring, ambivalent relations between forms of time and collective life. By attending to form, I suggest, we learn how literary modernism appeared at a remove from the temporal forms of everyday life which the modern novel itself helped to construct.
Education
| | |
| --- | --- |
| 2018 | B.A. in English Literature, University of Texas at San Antonio |
| 2020 | M.A. in English Literature, University of Illinois at Urbana-Champaign |
Awards and Honors
Distinguished Graduate Fellow
Additional Campus Affiliations
Certified, Unit for Criticism and Interpretive Theory
Highlighted Publications
"Review: Making Conversation in Modernist Fiction by Elizabeth Alsop." Modernism/modernity Print Plus, vol. 6, no. 3, 2022. [x]
"Marcus Keller's Hospitable Derrida." Kritik, 2019. [x]
"Portrait of Another Artist: Jean Giono's Melville." 3:AM Magazine, 2018. [x]
"Review: Between Two Fires: Transnationalism & Cold War Poetry by Justin Quinn." Transnational Literature, vol. 9, no. 1, 2016. [x]
Recent Publications
"Review: Ross Hall." Rain Taxi, forthcoming.
"Review: Making Liberalism New by Ian Afflerbach." The Modernist Review, no. 42, 2022.
"Timothy Brennan's New Marxist Materialism, Same as the Old." Kritik, 2020.
"Literature, Autonomy, and Commitment." ASAP/J, 2020.