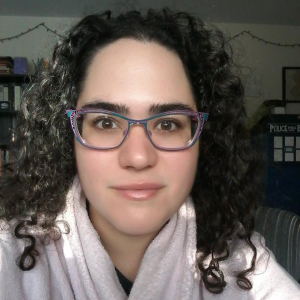 Contact Information
338 English Building
608 S. Wright St.
Urbana, IL 61801
Office Hours
Monday, Wednesday 2:15-3:15
Research Interests
African American Studies to 1900; 18th & 19th Century American Socio-Political History and Literature; Theory and Criticism; Semiology/Rhetoric
The Black Radical Tradition; Black Literature and Culture; Black Political Theory; Political Aesthetics; Political Theology; Print Culture Studies; Critical Race Theory; Liberation Pedagogies; Critical Whiteness Studies
I am interested in how our use of language shapes our perception and psychic/material experience of reality. As a reader of American and Transatlantic Black Literature and print medias, I am always considering the way rhetoric is creating meaning at the intersection of writer, reader, cultural/historical/print context. My orientation towards language is transdisciplinary, and so my work traverses the categories of thought and research that organize contemporary higher education.   
I am currently working on three projects. The first is entitled "The Political Theology of Augusta Jane Evans's Inez: The Tale of the Alamo". In this article I argue that Inez is a work of philosophical juvenilia in which Evans deploys religion to posit a hermeneutics—an interpretative framework—capable of guarding against the restless apprehensiveness that typifies how liberated bodies experience a modern, market economy. Thus Inez offers contemporary scholars a historically emergent political theology attuned to the psychic economy of capitalism and its ramifications.
The second project is entitled "Black Rhetoric and its Critique of Natural/Human Rights Discourse." Here I argue that Black Rhetoric, as practiced in a genre of orations commemorating the abolition of the Transatlantic Slave Trade, practices a meta-commentary on the dominant practices of naming and valuation. I show how these orators responded to the early national debates on natural rights by disclosing that the symbolic and legal exclusion of black bodies from the category of 'human'—and, by extension, the citizen—was the imaginative and material condition of possibility for (white) 'human' rights.
Both of these have contributed to how I've conceived of my dissertation project, which examines how early Black writers were pedagogues who modeled a literacy capable of reading and explicating the way our use of language creates meaning. Black Radical Pedagogy enacts the violence of de-colonialization at the level of signification (verb); not by substituting one species for another as Frantz Fanon defines de-colonialization in *The Wretched of the Earth*, but by a rhetorical reframing that foregrounds the experiences of Black flesh. Thus Black Radical Pedagogues read and write from a position that gives interpretative primacy to the lived experience of being Black under white supremacy.
Education
M.A., English, University of Florida (2011)
B.A., English, Women and Gender Studies, Rutgers University (2008)
Courses Taught
TA for English 255: Survey of American Literature I
Survey of British Literature
Rhetoric 105 Composition and Research
Rhetoric 101: Principles of Writing
Rhetoric 102: Principles of Research
BTW 250