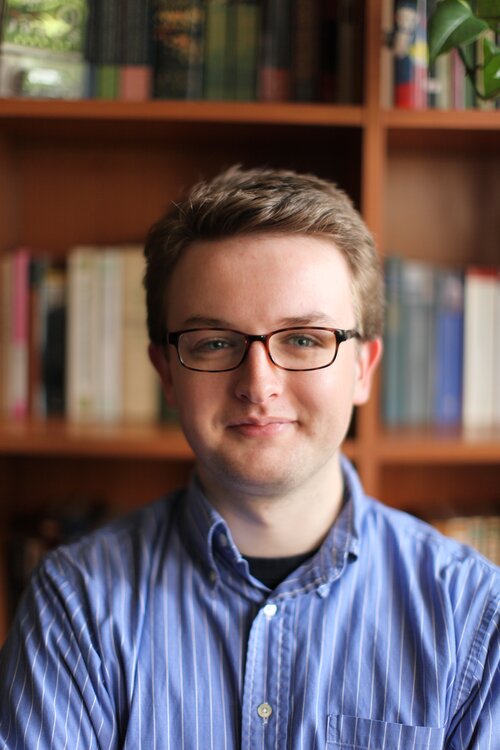 Office Hours
Spring 2022: Mondays, 8:30-10:30 am
Research Areas
MFA Candidate
Teaching Assistant
Biography
Isaac Willis is a poet from downstate IL. His work can be found in or is forthcoming from EcoTheo, The Cresset, Spoon River Poetry Review, and in Tania Runyan's How to Write a Form Poem.
Research Interests
Poetry of Place
Ecopoetry
Education
University of Illinois at Urbana-Champaign, MFA, 2022 (Expected)
Monmouth College, BA, 2018
Awards and Honors
Hobart L. and Mary Kay Peer Poetry Prize, UIUC, 2022
Rhetoric Program Award for Excellence in Writing Instruction, UIUC, 2022
Pushcart Prize, Nomination, 2021
List of Teachers Ranked as Excellent, UIUC, 2019-2021
Courses Taught
Rhet 105: Research and Writing
Rhet 101: Principles of Writing
Rhet 102: Principles of Research
CW 106: Introduction to Poetry Workshop
CW 200: Reading for Writers
Additional Campus Affiliations
Rhetoric Advisory Committee, English Department, 2019-2020
Assistant Poetry Editor, Ninth Letter, 2021
Reading Series Host, VOICE, Creative Writing Program, 2020
Highlighted Publications
Poetry
"The Shoppes at Grand Prairie and Other Syllogisms," EcoTheo Collective, forthcoming

"A Sonnet for the Architect," in Tania Runyan's How to Write a Form Poem

"Midwestern Sacrament," Spoon River Poetry Review

"Living Together," Bluffs Literary Magazine
Criticism
"Re-Reading Harry Potter, Re-Creating Ourselves: Harry Potter as Resurrection Stone," in Anne Mamary's The Alchemical Harry Potter: Essays on Transfiguration in J. K. Rowling's Novels, McFarland & Co, 2020.
Scholarly Articles
"Salvaging Shame, Saving Ourselves: The Productive Role of Shame for Animals and Marginalized Life," with Brianne Donaldson, Journal for Critical Animal Studies, 14.3. (Revised and reprinted in Feeling Animal Death: Being Host to Ghosts, eds. Brianne Donaldson and Ashley King, Rowman & Littlefield, 2019.)