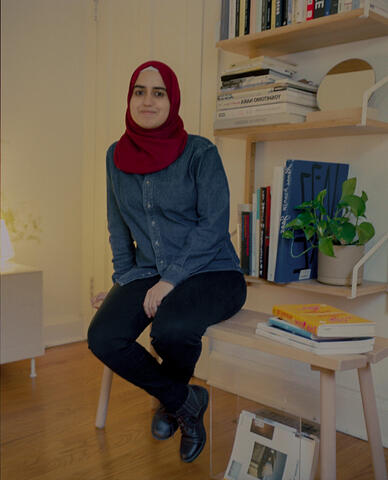 Contact Information
332 English Building
608 South Wright Street
Urbana, IL 61801
PhD Candidate in Literary Studies
Graduate Research Assistant, Department of Asian American Studies
Research Interests
Late 20th century and contemporary American literatures; American Indian and Indigenous literatures; Arab and Arab American literatures; diasporic, refugee, and prison writings; global Indigenous studies; feminist and queer theory; postcolonial and third world studies
Research Description
Eman Ghanayem is a PhD Candidate in English (Literary Studies). Her research spans the areas of American Indian studies, comparative ethnic studies, diaspora and refugee studies, and gender and women's studies. In general terms, her research trajectory is guided by a commitment to think through and contribute to contemporary scholarship in global Indigenous theory and its multiple geographies of inquiry. More specifically, Ghanayem is interested in the ways that colonial narrative techniques influence how we see place and nation. Colonial narratives frequently erase Indigenous presence and deny the racial and gendered violence that co-constitutes the nation-state. Indigenous literatures and theories tell a more accurate story. They attend to racial, national, and geographical boundaries and motivate a comprehensive understanding of the world and the inner works of networked colonialisms. Building on these perspectives, Ghanayem's dissertation, titled "Nations without Nationalisms: On Palestinian and American Indian Literary Imaginations," argues that indigeneity, as expressed in American Indian and Palestinian literatures, offers a necessary critique of nationalism as a product of the colonial west and represents a long-standing form of belonging that is land-oriented, relational, and can function without a state.
Education
M.A., English Literature, University of Jordan
B.A., English Language and Literature, University of Jordan
Grants
2017 - 2019 U of Illinois Graduate College Block Grant, Department of English 
2013 - 2015 U of Illinois INTERSECT (interdisciplinary arts and humanities research and training) Graduate Fellowship, American Indian Studies Program
Awards and Honors
2020 U of California, Irvine Global Scholars Early Career Fellowship Award
2017 U of Illinois Graduate Student Nicholson Fellowship, Unit of Interpretive Theory and Criticism 
2014 - 2017 Ranked Excellent in the U of Illinois Instructor and Course Evaluation System 
2016 U of Illinois English Department Hobart L. and Mary Kay Peer Poetry Award
Courses Taught
ENGL 116: Intro to American Literature
RHET 105: Writing and Research
Additional Campus Affiliations
American Indian Studies
Gender and Women's Studies
Unit for Criticism and Interpretive Theory
Highlighted Publications
JOURNAL ARTICLES
"Colonial Loops of Displacement in the United States and Israel: The Case of Rasmea Odeh," WSQ: Women's Studies Quarterly 47: 3 & 4 (Fall/Winter 2019): 71-91.
Written with Rebecca Macklin, "Indigenous Narratives: Global Forces in Motion," Transmotion, 5.1 (2019): 1-10.
EDITED VOLUME
ONLINE PUBLICATIONS AND BLOGPOSTS
"Towards Better Ally-Ship for Palestine: A Letter to the US Activist Community," Mondoweiss, Mondoweiss, 23 March 2017, https://mondoweiss.net/2017/03/palestine-activist-community/.
"'What's at Stake?: Intersectional Conversations in a Post-Truth Era,'" Kritik, UIUC Unit for Criticism, 2 March 2017, https://unitforcriticism.wordpress.com/2017/03/02/whats-at-stake-intersectional-conversations-in-a-post-truth-era-response-by-eman-ghanayem/.
"Criminalizing/Civilizing the Palestinian," UIUC Faculty Blogspot, 8 September 2014, https://uiucfaculty.blogspot.com/2014/09/eman-ghanayem-criminalizingcivil-izing.html.